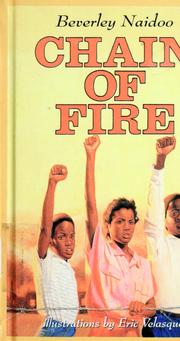 F Nai
Chain of fire
New York : Lippincott, 1990, c1989.
245 p. : ill. ; 22 cm.
When the villagers of Bophelong are forced to leave their houses and resettle in a barren "homeland," thirteen-year-old Naledi and her younger brother join in a school demonstration and learn that the South African government treats even children who dissent with brutality.
Available
Paperback book
1 copy available at Pownal Elementary School
| | |
| --- | --- |
| ISBN: | |
| ISBN: | |
| LC Call No: | PZ7.N1384 Ch 1990 |
| Dewey Class No: | [Fic] 20 |
| Author: | |
| Title: | Chain of fire / Beverley Naidoo ; illustrations by Eric Velasquez. |
| Edition: | 1st American ed. |
| Publisher: | New York : Lippincott, 1990, c1989. |
| Physical: | 245 p. : ill. ; 22 cm. |
| Notes: | Sequel to: Journey to Jo'burg. |
| Summary: | When the villagers of Bophelong are forced to leave their houses and resettle in a barren "homeland," thirteen-year-old Naledi and her younger brother join in a school demonstration and learn that the South African government treats even children who dissent with brutality. |
| Subject: | |
| AE:PersName: | |
| Link: | |
| Field | Ind | Subfield | Data |
| --- | --- | --- | --- |
| 001 Control No | | | 18346 |
| 005 LastTransaction | | | 20170606114614.0 |
| 008 Data Elements | | | 890912r19901989nyua j 000 1 eng |
| 010 LCCN | | $a Record content licensor | 89027551 |
| 020 ISBN | | $a ISBN | 978-0-397-32426-2 : |
| | | $c Terms of availability | $12.95 ($16.95 Can.) |
| 020 ISBN | | $a ISBN | 978-0-397-32427-9 (lib. bdg) : |
| | | $c Terms of availability | $12.89 |
| 035 System Ctrl No | | $9 | (DLC) 89027551 |
| 035 System Ctrl No | | $a System control number | 2453650 |
| 040 Cataloging Src | | $a Original cataloging agency | DLC |
| | | $c Transcribing agency | DLC |
| | | $d Modifying agency | DLC |
| 042 Authentication | | $a Authentication code | lcac |
| 050 LC Call No | 00 | $a Classification number | PZ7.N1384 |
| | | $b Item number | Ch 1990 |
| 082 Dewey Class No | 00 | $a Classification number | [Fic] |
| | | $2 Edition number | 20 |
| 100 ME:PersonalName | 1 | $a Personal name | Naidoo, Beverley. |
| 245 Title | 10 | $a Title | Chain of fire / |
| | | $c Statement of responsibility | Beverley Naidoo ; illustrations by Eric Velasquez. |
| 250 Edition | | $a Edition statement | 1st American ed. |
| 260 PublicationInfo | | $a Place of publication, dist. | New York : |
| | | $b Name of publisher, dist, etc | Lippincott, |
| | | $c Date of publication, dist, etc | 1990, c1989. |
| 300 Physical Desc | | $a Extent | 245 p. : |
| | | $b Other physical details | ill. ; |
| | | $c Dimensions | 22 cm. |
| 500 General Note | | $a General note | Sequel to: Journey to Jo'burg. |
| 520 Summary | | $a Summary, etc. note | When the villagers of Bophelong are forced to leave their houses and resettle in a barren "homeland," thirteen-year-old Naledi and her younger brother join in a school demonstration and learn that the South African government treats even children who dissent with brutality. |
| 650 Subj:Topic | 1 | $a Topical term | Blacks |
| | | $z Geographic subdivision | South Africa |
| | | $x General subdivision | Fiction. |
| 651 Subj:Geog | 1 | $a Geographic name | South Africa |
| | | $x General subdivision | Race relations |
| | | $x General subdivision | Fiction. |
| 700 AE:PersName | 1 | $a Personal name | Naidoo, Beverley. |
| | | $t Title of a work | Journey to Jo'burg. |
| 852 Holdings | | $a Location | POWNL |
| | | $h Classification part | F Nai |
| | | $p Barcode | 56999 |
| | | $9 Cost | $4.00 |
| 856 ElectronicLocat | 4 | $3 Materials specified | Cover image |
| | | $u Uniform Resource Identifier | https://covers.openlibrary.org/b/id/6470563-M.jpg |