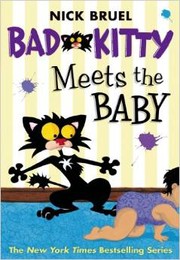 741 Bru
Bad kitty meets the baby
New York : Roaring Brook Press, c2011.
143 p. : ill. ; 22 cm.
"Kitty's owners have brought her a surprise. It's big, it's stinky, and it drools, but what the heck is it? Kitty thinks it's a ... dog. Ack! The neighborhood cats are convinced it's another cat and enter it in the Kitty Olympics. But despite its kitty-like talents, we all know that it's really ... a baby!" -- (p.4) of cover.
Available
Early Readers
1 copy available at Pownal Elementary School
| | |
| --- | --- |
| ISBN: | |
| ISBN: | |
| ISBN: | |
| ISBN: | |
| LC Call No: | PZ7.B82832 Bam 2011 |
| Dewey Class No: | [E] 22 |
| Author: | |
| Title: | |
| Edition: | 1st ed. |
| Publisher: | New York : Roaring Brook Press, c2011. |
| Physical: | 143 p. : ill. ; 22 cm. |
| Notes: | "A Neal Porter Book.". |
| Summary: | "Kitty's owners have brought her a surprise. It's big, it's stinky, and it drools, but what the heck is it? Kitty thinks it's a ... dog. Ack! The neighborhood cats are convinced it's another cat and enter it in the Kitty Olympics. But despite its kitty-like talents, we all know that it's really ... a baby!" -- (p.4) of cover. |
| Subject: | |
| Subject: | |
| Subject: | |
| Subject: | |
| Link: | |
| Field | Ind | Subfield | Data |
| --- | --- | --- | --- |
| 001 Control No | | | 15837 |
| 005 LastTransaction | | | 20170619120906.0 |
| 008 Data Elements | | | 100930s2011 nyua b 000 1 eng |
| 019 | | $a | 745429637 |
| 020 ISBN | | $a ISBN | 978-1-59643-597-1 |
| 020 ISBN | | $a ISBN | 978-1-59643-597-1 |
| 020 ISBN | | $a ISBN | 978-1-59643-762-3 |
| 020 ISBN | | $a ISBN | 978-1-59643-762-3 |
| 035 System Ctrl No | | $a System control number | (OCoLC)664667506 |
| | | $z Canceled/invalid control no. | (OCoLC)745429637 |
| 035 System Ctrl No | | $a System control number | (OCoLC)664667506 |
| 040 Cataloging Src | | $a Original cataloging agency | DLC |
| | | $b Language of cataloging | eng |
| | | $c Transcribing agency | DLC |
| | | $d Modifying agency | IG# |
| | | $d Modifying agency | BTCTA |
| | | $d Modifying agency | UPZ |
| | | $d Modifying agency | ON8 |
| | | $d Modifying agency | EHH |
| | | $d Modifying agency | AU@ |
| | | $d Modifying agency | IHI |
| | | $d Modifying agency | BDX |
| | | $d Modifying agency | BGU |
| 042 Authentication | | $a Authentication code | lcac |
| 050 LC Call No | 00 | $a Classification number | PZ7.B82832 |
| | | $b Item number | Bam 2011 |
| 082 Dewey Class No | 00 | $a Classification number | [E] |
| | | $2 Edition number | 22 |
| 100 ME:PersonalName | 1 | $a Personal name | Bruel, Nick. |
| 245 Title | 10 | $a Title | Bad kitty meets the baby / |
| | | $c Statement of responsibility | Nick Bruel. |
| 250 Edition | | $a Edition statement | 1st ed. |
| 260 PublicationInfo | | $a Place of publication, dist. | New York : |
| | | $b Name of publisher, dist, etc | Roaring Brook Press, |
| | | $c Date of publication, dist, etc | c2011. |
| 300 Physical Desc | | $a Extent | 143 p. : |
| | | $b Other physical details | ill. ; |
| | | $c Dimensions | 22 cm. |
| 500 General Note | | $a General note | "A Neal Porter Book.". |
| 505 ContentsNote | 0 | $a Formatted contents note | Introduction: In the Beginning -- Chapter One: A Short Time Away -- Chapter Two: What the Heck is That Thing? -- Chapter Three: Another *$@*& Dog! -- Chapter Four: The Pussycat Olympics -- Chapter Five: Our Regularyly Scheduled Screaming Temper Tantrum -- Chapter Six: A New Beginning. |
| 520 Summary | | $a Summary, etc. note | "Kitty's owners have brought her a surprise. It's big, it's stinky, and it drools, but what the heck is it? Kitty thinks it's a ... dog. Ack! The neighborhood cats are convinced it's another cat and enter it in the Kitty Olympics. But despite its kitty-like talents, we all know that it's really ... a baby!" -- (p.4) of cover. |
| 650 Subj:Topic | 0 | $a Topical term | Cats |
| | | $v Form subdivision | Fiction. |
| 650 Subj:Topic | 0 | $a Topical term | Infants |
| | | $v Form subdivision | Fiction. |
| 650 Subj:Topic | 0 | $a Topical term | Adoption |
| | | $v Form subdivision | Fiction. |
| 650 Subj:Topic | 0 | $a Topical term | Humorous stories. |
| 852 Holdings | | $a Location | POWNL |
| | | $p Barcode | 54358 |
| | | $9 Cost | $14.00 |
| | | $h Classification part | 741 Bru |
| 856 ElectronicLocat | 4 | $3 Materials specified | Cover image |
| | | $u Uniform Resource Identifier | https://covers.openlibrary.org/b/id/7348521-M.jpg |