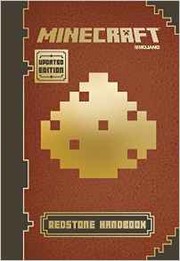 004 Far
Minecraft Redstone handbook
New York, NY : Scholastic Inc., [2015]
93 pages : color illustrations ; 20 cm.
Here's everything you need to know to get connected to the electrifying possibilities of redstone. From basic mining and logic circuits to more advanced mechanics, this book will give you step-by-step instructions to get you fully wired to redstone. With builds including redstone traps and arrow launchers, you'll never fear creepers again!"--Back cover.
Available
Generalities; Big foot, Computers
1 copy available at Pownal Elementary School
| Field | Ind | Subfield | Data |
| --- | --- | --- | --- |
| 001 Control No | | | 18107 |
| 005 LastTransaction | | | 20170409220002.0 |
| 008 Data Elements | | | 160615t20152015nyua b bf 000 0 eng d |
| 010 LCCN | | $a Record content licensor | 2016303938 |
| 020 ISBN | | $a ISBN | 978-0-545-82324-1 |
| | | $q | (hardback) |
| 020 ISBN | | $a ISBN | 978-0-545-82324-1 |
| | | $q | (hardback) |
| 020 ISBN | | $a ISBN | 978-0-545-82320-3 |
| | | $q | (school market paperback) |
| 020 ISBN | | $a ISBN | 978-0-545-82320-3 |
| | | $q | (school market paperback) |
| 035 System Ctrl No | | $a System control number | (OCoLC)ocn893709941 |
| 035 System Ctrl No | | $a System control number | 19136476 |
| 040 Cataloging Src | | $a Original cataloging agency | YDXCP |
| | | $b Language of cataloging | eng |
| | | $c Transcribing agency | YDXCP |
| | | $e Description conventions | rda |
| | | $d Modifying agency | BTCTA |
| | | $d Modifying agency | OCLCQ |
| | | $d Modifying agency | KTP |
| | | $d Modifying agency | OCO |
| | | $d Modifying agency | CLE |
| | | $d Modifying agency | ZHB |
| | | $d Modifying agency | OCLCO |
| | | $d Modifying agency | OCP |
| | | $d Modifying agency | JP3 |
| | | $d Modifying agency | NBO |
| | | $d Modifying agency | OCLCO |
| | | $d Modifying agency | OCLCF |
| | | $d Modifying agency | OCLCO |
| | | $d Modifying agency | EYP |
| | | $d Modifying agency | JJJ |
| | | $d Modifying agency | EHH |
| | | $d Modifying agency | GK8 |
| | | $d Modifying agency | OCLCO |
| | | $d Modifying agency | IHX |
| | | $d Modifying agency | OCLCA |
| | | $d Modifying agency | OCLCQ |
| | | $d Modifying agency | OCLCO |
| | | $d Modifying agency | DLC |
| 042 Authentication | | $a Authentication code | lccopycat |
| 050 LC Call No | 00 | $a Classification number | GV1469.35.M535 |
| | | $b Item number | F37 2015 |
| 082 Dewey Class No | 04 | $a Classification number | 794.8 |
| | | $2 Edition number | 23 |
| 100 ME:PersonalName | 1 | $a Personal name | Farwell, Nick, |
| | | $e Relator term | author. |
| 245 Title | 10 | $a Title | Minecraft Redstone handbook / |
| | | $c Statement of responsibility | written by Nick Farwell ; additional material by Don Steer ; illustrations by James Burlinson, Theo Cordner, Joe Bolder [and 4 others]. |
| 246 VaryingTitle | 30 | $a Title proper/short title | Redstone handbook |
| 250 Edition | | $a Edition statement | Updated edition. |
| 264 ProductnNotice | 1 | $a Place of prod/dist/manuf. | New York, NY : |
| | | $b Name of prod./pub./dist./man. | Scholastic Inc., |
| | | $c Date of prod/dist/manuf/copyrt | [2015] |
| 264 ProductnNotice | 4 | $c Date of prod/dist/manuf/copyrt | ©2015 |
| 300 Physical Desc | | $a Extent | 93 pages : |
| | | $b Other physical details | color illustrations ; |
| | | $c Dimensions | 20 cm. |
| 336 ContentType | | $a Content type term | text |
| | | $b Content type code | txt |
| | | $2 Source | rdacontent |
| 336 ContentType | | $a Content type term | still image |
| | | $b Content type code | sti |
| | | $2 Source | rdacontent |
| 337 MediaType | | $a Media type term | unmediated |
| | | $b Media type code | n |
| | | $2 Source | rdamedia |
| 338 CarrierType | | $a Carrier†type term | volume |
| | | $b Carrier type code | nc |
| | | $2 Source | rdacarrier |
| 500 General Note | | $a General note | "First published 2014." |
| 500 General Note | | $a General note | "Mojang.". |
| 504 BibliogrphyNote | | $a Bibliography, etc. note | Includes bibliographical references. |
| 505 ContentsNote | 0 | $a Formatted contents note | Redstone essentials. Redstone ore -- Redstone dust -- Redstone torch -- Redstone repeater -- Piston -- Sticky piston -- Power sources -- Slime blocks -- Lighting systems -- Piston doors -- Minecart stations -- Pulse shortener -- Toggle flip-flop -- Clock circuits -- Redstone challenges. Deluxe lighting system -- Automated chicken farm -- Classic Jeb door -- Lava pit trap -- Dual shot cannon -- Supercharged fire arrow launcher -- 3x3 piston door -- Potion lab -- Community creations. 14 floor elevator by Cubehamster -- Color map display by Sethbling -- Super stopwatch by JL2579 & Cubehamster -- Gold rush by CNB -- Zombie siege by FVDisco -- Hints and tips -- Useful links. |
| 520 Summary | | $a Summary, etc. note | Here's everything you need to know to get connected to the electrifying possibilities of redstone. From basic mining and logic circuits to more advanced mechanics, this book will give you step-by-step instructions to get you fully wired to redstone. With builds including redstone traps and arrow launchers, you'll never fear creepers again!"--Back cover. |
| 650 Subj:Topic | 0 | $a Topical term | Minecraft (Game) |
| | | $v Form subdivision | Handbooks, manuals, etc. |
| | | $v Form subdivision | Juvenile literature. |
| 650 Subj:Topic | 0 | $a Topical term | Video games |
| | | $v Form subdivision | Handbooks, manuals, etc. |
| | | $v Form subdivision | Juvenile literature. |
| 650 Subj:Topic | 1 | $a Topical term | Minecraft (Game) |
| | | $v Form subdivision | Handbooks, manuals, etc. |
| 650 Subj:Topic | 1 | $a Topical term | Video games |
| | | $v Form subdivision | Handbooks, manuals, etc. |
| 650 Subj:Topic | 7 | $a Topical term | Minecraft (Game) |
| | | $2 Source of heading or term | fast |
| | | $0 | (OCoLC)fst01894597 |
| 650 Subj:Topic | 7 | $a Topical term | Video games. |
| | | $2 Source of heading or term | fast |
| | | $0 | (OCoLC)fst01166421. |
| 655 IT:Genre | 7 | $a Genre/form data or focus term | Handbooks and manuals. |
| | | $2 Source of term | fast |
| | | $0 | (OCoLC)fst01423877 |
| 655 IT:Genre | 7 | $a Genre/form data or focus term | Juvenile works. |
| | | $2 Source of term | fast |
| | | $0 | (OCoLC)fst01411637 |
| 655 IT:Genre | 7 | $a Genre/form data or focus term | Handbooks and manuals. |
| | | $2 Source of term | lcgft. |
| 700 AE:PersName | 1 | $a Personal name | Steer, Don, |
| | | $e Relator | author. |
| 700 AE:PersName | 1 | $a Personal name | Burlinson, James, |
| | | $e Relator | illustrator. |
| 700 AE:PersName | 1 | $a Personal name | Cordner, Theo, |
| | | $e Relator | illustrator. |
| 700 AE:PersName | 1 | $a Personal name | Bolder, Joe, |
| | | $e Relator | illustrator. |
| 710 AE:CorpName | 2 | $a Corporate name | Mojang AB (Firm), |
| | | $e Relator term | production company. |
| 852 Holdings | | $a Location | POWNL |
| | | $h Classification part | 004 Far |
| | | $p Barcode | 56731 |
| | | $9 Cost | $15.00 |
| 856 ElectronicLocat | 42 | $3 Materials specified | Publisher description |
| | | $u Uniform Resource Identifier | https://www.loc.gov/catdir/enhancements/fy1618/2016303938-d.html |
| 856 ElectronicLocat | 4 | $3 Materials specified | Cover image |
| | | $u Uniform Resource Identifier | https://covers.openlibrary.org/b/id/7377208-M.jpg |