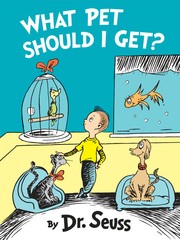 E SEU
What pet should I get?
New york : Random House, 2015.
volume (unpaged) : color illustrations ; 29 cm.
"What happens when a brother and sister visit a pet store to pick a pet? Naturally, they can't choose just one! The tale captures a classic childhood moment--choosing a pet--and uses it to illuminate a life lesson: that it is hard to make up your mind, but sometimes you just have to do it!" -- provided by publisher.
Available
Regular
1 copy available at Molly Stark Elementary School
| | |
| --- | --- |
| ISBN: | |
| ISBN: | |
| ISBN: | |
| ISBN: | |
| LC Call No: | PZ |
| Dewey Class No: | [E] |
| Author: | |
| Title: | |
| Physical: | volume (unpaged) : color illustrations ; 29 cm. |
| ContentType: | |
| ContentType: | |
| MediaType: | |
| CarrierType: | |
| Summary: | "What happens when a brother and sister visit a pet store to pick a pet? Naturally, they can't choose just one! The tale captures a classic childhood moment--choosing a pet--and uses it to illuminate a life lesson: that it is hard to make up your mind, but sometimes you just have to do it!" -- provided by publisher. |
| Subject: | |
| Subject: | |
| Subject: | |
| Subject: | |
| Subject: | |
| Link: | |
| Link: | |
| Field | Ind | Subfield | Data |
| --- | --- | --- | --- |
| 001 Control No | | | 15368 |
| 005 LastTransaction | | | 20160906130106.0 |
| 008 Data Elements | | | 150219s2015 xx a j 000 1 eng d |
| 020 ISBN | | $a ISBN | 978-0-553-52427-7 |
| 020 ISBN | | $a ISBN | 978-0-553-52427-7 |
| 020 ISBN | | $a ISBN | 978-0-553-52426-0 |
| | | $q | (library binding) |
| 020 ISBN | | $a ISBN | 978-0-553-52426-0 |
| | | $q | (library binding) |
| 035 System Ctrl No | | $a System control number | (OCoLC)903634509 |
| 035 System Ctrl No | | $a System control number | (OCoLC)903634509 |
| 040 Cataloging Src | | $a Original cataloging agency | YDXCP |
| | | $b Language of cataloging | eng |
| | | $c Transcribing agency | YDXCP |
| | | $d Modifying agency | OCLCO |
| | | $d Modifying agency | BDX |
| | | $d Modifying agency | WIM |
| | | $d Modifying agency | BTCTA |
| | | $d Modifying agency | KTP |
| | | $d Modifying agency | BGU |
| 050 LC Call No | 4 | $a Classification number | PZ |
| 082 Dewey Class No | 4 | $a Classification number | [E] |
| 100 ME:PersonalName | 1 | $a Personal name | Seuss, |
| | | $c Titles & associated words | Dr. |
| 245 Title | 10 | $a Title | What pet should I get? / |
| | | $c Statement of responsibility | by Dr. Seuss. |
| 264 ProductnNotice | 1 | $a Place of prod/dist/manuf. | New york : |
| | | $b Name of prod./pub./dist./man. | Random House, |
| | | $c Date of prod/dist/manuf/copyrt | 2015. |
| 300 Physical Desc | | $a Extent | volume (unpaged) : |
| | | $b Other physical details | color illustrations ; |
| | | $c Dimensions | 29 cm. |
| 336 ContentType | | $a Content type term | text |
| | | $b Content type code | txt |
| | | $2 Source | rdacontent. |
| 336 ContentType | | $a Content type term | still image |
| | | $b Content type code | sti |
| | | $2 Source | rdacontent. |
| 337 MediaType | | $a Media type term | unmediated |
| | | $b Media type code | n |
| | | $2 Source | rdamedia. |
| 338 CarrierType | | $a Carrier type term | volume |
| | | $b Carrier type code | nc |
| | | $2 Source | rdacarrier. |
| 520 Summary | | $a Summary, etc. note | "What happens when a brother and sister visit a pet store to pick a pet? Naturally, they can't choose just one! The tale captures a classic childhood moment--choosing a pet--and uses it to illuminate a life lesson: that it is hard to make up your mind, but sometimes you just have to do it!" -- |
| | | $c | provided by publisher. |
| 650 Subj:Topic | 0 | $a Topical term | Pets |
| | | $x General subdivision | Selection |
| | | $v Form subdivision | Juvenile fiction. |
| 650 Subj:Topic | 0 | $a Topical term | Pets |
| | | $v Form subdivision | Juvenile fiction. |
| 650 Subj:Topic | 0 | $a Topical term | Pet shops |
| | | $v Form subdivision | Juvenile fiction. |
| 650 Subj:Topic | 0 | $a Topical term | Brothers and sisters |
| | | $v Form subdivision | Juvenile fiction. |
| 650 Subj:Topic | 0 | $a Topical term | Stories in rhyme. |
| 852 Holdings | | $a Location | MLYST |
| | | $h Classification part | E SEU |
| | | $p Barcode | 70082 |
| | | $9 Cost | 18 |
| 852 Holdings | 1 | $h Classification part | E SE |
| | | $i Item part | SE |
| | | $p Barcode | 15720070 |
| | | $9 Cost | $15.34 |
| | | $a Location | MLYST |
| 856 ElectronicLocat | 4 | $3 Materials specified | Cover image |
| | | $u Uniform Resource Identifier | https://covers.openlibrary.org/b/id/7388725-M.jpg |
| 856 ElectronicLocat | 4 | $3 Materials specified | Author photo |
| | | $u Uniform Resource Identifier | https://covers.openlibrary.org/a/olid/OL2622837A-M.jpg |