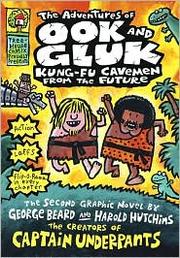 F Bea
The adventures of Ook and Gluk : kung-fu cavemen from the future
New York : Blue Sky Press, c2010.
175 p. : ill. ; 22 cm.
Friends Ook and Gluk are always getting into trouble with their village chief until they pass through a portal into a future run by the chief's descendant, where they learn kung fu so they can return to the past and free their people. Presented in comic book format.
Available
Early Readers
1 copy available at Pownal Elementary School
| Field | Ind | Subfield | Data |
| --- | --- | --- | --- |
| 001 Control No | | | 13878 |
| 005 LastTransaction | | | 20170320082522.0 |
| 008 Data Elements | | | 100723s2010 nyua j 6 000 1 eng d |
| 010 LCCN | | $a Record content licensor | 2010904867 |
| 020 ISBN | | $a ISBN | 978-0-545-17530-2 (hbk.) |
| 020 ISBN | | $a ISBN | 978-0-545-17530-2 (hbk.) |
| 035 System Ctrl No | | $a System control number | (OCoLC)649818814 |
| 035 System Ctrl No | | $a System control number | (OCoLC)z1einp b2966904 |
| 040 Cataloging Src | | $a Original cataloging agency | SDL |
| | | $c Transcribing agency | SDL |
| | | $d Modifying agency | ZAC |
| | | $d Modifying agency | CGB |
| | | $d Modifying agency | CPL |
| 049 | | $a | CPLL |
| 100 ME:PersonalName | 1 | $a Personal name | Pilkey, Dav, |
| | | $d Dates associated with a name | 1966- |
| 245 Title | 14 | $a Title | The adventures of Ook and Gluk : |
| | | $b Remainder of title | kung-fu cavemen from the future / |
| | | $c Statement of responsibility | by George Beard and Harold Hutchins ; [written by Dav Pilkey]. |
| 260 PublicationInfo | | $a Place of publication, dist. | New York : |
| | | $b Name of publisher, dist, etc | Blue Sky Press, |
| | | $c Date of publication, dist, etc | c2010. |
| 300 Physical Desc | | $a Extent | 175 p. : |
| | | $b Other physical details | ill. ; |
| | | $c Dimensions | 22 cm. |
| 500 General Note | | $a General note | "Tree-house comix proudly presents"--Cover. |
| 520 Summary | | $a Summary, etc. note | Friends Ook and Gluk are always getting into trouble with their village chief until they pass through a portal into a future run by the chief's descendant, where they learn kung fu so they can return to the past and free their people. Presented in comic book format. |
| 650 Subj:Topic | 1 | $a Topical term | Prehistoric peoples |
| | | $v Form subdivision | Fiction. |
| 650 Subj:Topic | 1 | $a Topical term | Cave dwellers |
| | | $v Form subdivision | Fiction. |
| 650 Subj:Topic | 1 | $a Topical term | Kung fu |
| | | $v Form subdivision | Fiction. |
| 650 Subj:Topic | 1 | $a Topical term | Time travel |
| | | $v Form subdivision | Fiction. |
| 650 Subj:Topic | 1 | $a Topical term | Cartoons and comics. |
| 655 IT:Genre | 7 | $a Genre/form data or focus term | Comic books, strips, etc. |
| | | $2 Source of term | lcsh. |
| 655 IT:Genre | 7 | $a Genre/form data or focus term | Graphic novels. |
| | | $2 Source of term | lcsh. |
| 700 AE:PersName | 1 | $a Personal name | Beard, George, |
| | | $d Dates of flourishing | 1966- |
| 700 AE:PersName | 1 | $a Personal name | Hutchins, Harold, |
| | | $d Dates of flourishing | 1966- |
| 852 Holdings | | $a Location | POWNL |
| | | $h Classification part | F Bea |
| | | $p Barcode | 52168 |
| | | $9 Cost | $10.00 |
| 856 ElectronicLocat | 4 | $3 Materials specified | Cover image |
| | | $u Uniform Resource Identifier | https://covers.openlibrary.org/b/id/6458473-M.jpg |