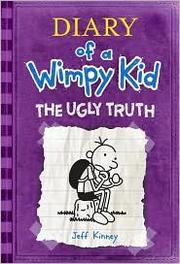 F Kin
The ugly truth
New York : Amulet Books, c2010.
217 p. : ill. ; 22 cm.
While trying to find a new best friend after feuding with Rowley, middle-school slacker Greg Heffley is warned by older family members that adolescence is a time to act more responsibly and to think seriously about his future.
Available
Fiction
5 copies available at Pownal Elementary School
| | |
| --- | --- |
| ISBN: | |
| Author: | |
| Title: | |
| Publisher: | New York : Amulet Books, c2010. |
| Physical: | 217 p. : ill. ; 22 cm. |
| Series: | |
| Citation/Refs: | Library Journal Prepub Alert, July 15, 2010. |
| Summary: | While trying to find a new best friend after feuding with Rowley, middle-school slacker Greg Heffley is warned by older family members that adolescence is a time to act more responsibly and to think seriously about his future. |
| Target Audience: | |
| Target Audience: | |
| SAE:PersonlName: | |
| Link: | |
| Link: | |
| Field | Ind | Subfield | Data |
| --- | --- | --- | --- |
| 001 Control No | | | 13888 |
| 005 LastTransaction | | | 20140608090952.0 |
| 008 Data Elements | | | 100913s2010 nyua c 000 1 eng |
| 010 LCCN | | $a Record content licensor | 2010033360 |
| 020 ISBN | | $a ISBN | 978-0-8109-8491-2 : |
| | | $c Terms of availability | $13.95 |
| 035 System Ctrl No | | $a System control number | (PWmBRO)zaccp1 b4116726 |
| 040 Cataloging Src | | $a Original cataloging agency | DLC |
| | | $c Transcribing agency | DLC |
| 042 Authentication | | $a Authentication code | lcac |
| 100 ME:PersonalName | 1 | $a Personal name | Kinney, Jeff. |
| 245 Title | 14 | $a Title | The ugly truth / |
| | | $c Statement of responsibility | by Jeff Kinney. |
| 260 PublicationInfo | | $a Place of publication, dist. | New York : |
| | | $b Name of publisher, dist, etc | Amulet Books, |
| | | $c Date of publication, dist, etc | c2010. |
| 300 Physical Desc | | $a Extent | 217 p. : |
| | | $b Other physical details | ill. ; |
| | | $c Dimensions | 22 cm. |
| 490 SeriesStatement | 1 | $a Series statement | Diary of a wimpy kid ; |
| | | $v Vol. no./sequential designatn | 5. |
| 510 Citation/Refs | 4 | $a Name of source | Library Journal Prepub Alert, |
| | | $c Location within source | July 15, 2010. |
| 520 Summary | | $a Summary, etc. note | While trying to find a new best friend after feuding with Rowley, middle-school slacker Greg Heffley is warned by older family members that adolescence is a time to act more responsibly and to think seriously about his future. |
| 521 Target Audience | 1 | $a Target audience note | 8-12. |
| | | $b Source | Brodart. |
| 521 Target Audience | 2 | $a Target audience note | 3-7. |
| | | $b Source | Brodart. |
| 800 SAE:PersonlName | 1 | $a Personal name | Kinney, Jeff. |
| | | $t Title of a work | Diary of a wimpy kid ; |
| | | $v Volume/sequential designation | 5. |
| 852 Holdings | | $a Location | POWNL |
| | | $p Barcode | 52177 |
| | | $9 Cost | $12.00 |
| | | $h Classification part | F Kin |
| 852 Holdings | | $a Location | POWNL |
| | | $h Classification part | F Kin |
| | | $p Barcode | 52178 |
| | | $9 Cost | $12.00 |
| 852 Holdings | | $a Location | POWNL |
| | | $h Classification part | F Kin |
| | | $p Barcode | 52410 |
| | | $9 Cost | $16.00 |
| 852 Holdings | | $a Location | POWNL |
| | | $h Classification part | F Kin |
| | | $p Barcode | 52502 |
| | | $9 Cost | $12.00 |
| 852 Holdings | | $a Location | POWNL |
| | | $h Classification part | F Kin |
| | | $p Barcode | 53693 |
| | | $9 Cost | $16.12 |
| 852 Holdings | | $a Location | POWNL |
| | | $h Classification part | F Kin |
| | | $p Barcode | 53772 |
| | | $9 Cost | $14.00 |
| 856 ElectronicLocat | 4 | $3 Materials specified | Cover image |
| | | $u Uniform Resource Identifier | https://covers.openlibrary.org/b/id/6667757-M.jpg |
| 856 ElectronicLocat | 4 | $3 Materials specified | Author photo |
| | | $u Uniform Resource Identifier | https://covers.openlibrary.org/a/olid/OL2832500A-M.jpg |