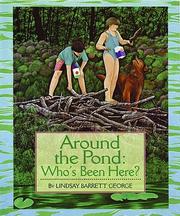 E Geo
Around the pond : who's been here?
New York : Greenwillow Books, c1996.
1 v. (unpaged) : chiefly col. ill. ; 29 cm.
While picking blueberries on a warm summer afternoon, Cammy and her brother see signs of unseen animals and their activities including footprints, a dam, and a floating feather.
Available
Early Readers
1 copy available at Pownal Elementary School
| | |
| --- | --- |
| ISBN: | |
| ISBN: | |
| LC Call No: | PZ7.G29334 Ar 1996 |
| Dewey Class No: | [E] 20 |
| Author: | |
| Title: | Around the pond : who's been here? / Lindsay Barrett George. |
| Publisher: | New York : Greenwillow Books, c1996. |
| Physical: | 1 v. (unpaged) : chiefly col. ill. ; 29 cm. |
| Summary: | While picking blueberries on a warm summer afternoon, Cammy and her brother see signs of unseen animals and their activities including footprints, a dam, and a floating feather. |
| Subject: | |
| Subject: | |
| Link: | |
| Link: | |
| Link: | |
| Field | Ind | Subfield | Data |
| --- | --- | --- | --- |
| 001 Control No | | | 18190 |
| 005 LastTransaction | | | 20170325015654.0 |
| 008 Data Elements | | | 950807s1996 nyua j 000 1 eng |
| 010 LCCN | | $a Record content licensor | 95025080 |
| 020 ISBN | | $a ISBN | 978-0-688-14376-3 |
| 020 ISBN | | $a ISBN | 978-0-688-14377-0 |
| 035 System Ctrl No | | $9 | (DLC) 95025080 |
| 035 System Ctrl No | | $a System control number | 3979453 |
| 040 Cataloging Src | | $a Original cataloging agency | DLC |
| | | $c Transcribing agency | DLC |
| | | $d Modifying agency | DLC |
| 042 Authentication | | $a Authentication code | lcac |
| 050 LC Call No | 00 | $a Classification number | PZ7.G29334 |
| | | $b Item number | Ar 1996 |
| 082 Dewey Class No | 00 | $a Classification number | [E] |
| | | $2 Edition number | 20 |
| 100 ME:PersonalName | 1 | $a Personal name | George, Lindsay Barrett. |
| 245 Title | 10 | $a Title | Around the pond : |
| | | $b Remainder of title | who's been here? / |
| | | $c Statement of responsibility | Lindsay Barrett George. |
| 260 PublicationInfo | | $a Place of publication, dist. | New York : |
| | | $b Name of publisher, dist, etc | Greenwillow Books, |
| | | $c Date of publication, dist, etc | c1996. |
| 300 Physical Desc | | $a Extent | 1 v. (unpaged) : |
| | | $b Other physical details | chiefly col. ill. ; |
| | | $c Dimensions | 29 cm. |
| 520 Summary | | $a Summary, etc. note | While picking blueberries on a warm summer afternoon, Cammy and her brother see signs of unseen animals and their activities including footprints, a dam, and a floating feather. |
| 650 Subj:Topic | 1 | $a Topical term | Animals |
| | | $x General subdivision | Habits and behavior |
| | | $v Form subdivision | Fiction. |
| 650 Subj:Topic | 1 | $a Topical term | Summer |
| | | $v Form subdivision | Fiction. |
| 852 Holdings | | $a Location | POWNL |
| | | $h Classification part | E Geo |
| | | $p Barcode | 56823 |
| | | $9 Cost | $18.00 |
| 856 ElectronicLocat | 42 | $3 Materials specified | Publisher description |
| | | $u Uniform Resource Identifier | http://www.loc.gov/catdir/description/hc044/95025080.html |
| 856 ElectronicLocat | 42 | $3 Materials specified | Contributor biographical information |
| | | $u Uniform Resource Identifier | http://www.loc.gov/catdir/enhancements/fy0912/95025080-b.html |
| 856 ElectronicLocat | 4 | $3 Materials specified | Cover image |
| | | $u Uniform Resource Identifier | https://covers.openlibrary.org/b/id/6715790-M.jpg |