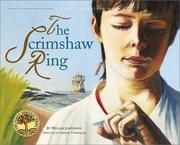 F JAS
The scrimshaw ring
Middlebury, Vt. : Vermont Folklife Center, c2002.
1 v. unpaged : col. ill. ; 21 x 26 cm.
A young boy living in Newport, Rhode Island, in 1710 enjoys imaginary adventures with make-believe pirates, until the day that real pirates come ashore for evil purposes and leave him a remarkable memento. Includes ideas for activities related to family heirlooms.
Available
Fiction
1 copy available at Bennington Elementary School
| | |
| --- | --- |
| ISBN: | |
| LC Call No: | PZ7.J323 Sc 2002 |
| Dewey Class No: | [Fic] 21 |
| Author: | |
| Title: | The scrimshaw ring / by William Jaspersohn ; paintings by Vernon Thornblad. |
| Edition: | 1st ed. |
| Publisher: | Middlebury, Vt. : Vermont Folklife Center, c2002. |
| Physical: | 1 v. unpaged : col. ill. ; 21 x 26 cm. |
| Series: | |
| Notes: | Based on real events. |
| Summary: | A young boy living in Newport, Rhode Island, in 1710 enjoys imaginary adventures with make-believe pirates, until the day that real pirates come ashore for evil purposes and leave him a remarkable memento. Includes ideas for activities related to family heirlooms. |
| Subject: | |
| Subject: | |
| AE:PersName: | |
| Link: | |
| Field | Ind | Subfield | Data |
| --- | --- | --- | --- |
| 001 Control No | | | 13061 |
| 005 LastTransaction | | | 20170316100122.0 |
| 008 Data Elements | | | 020319s2002 vtua c 000 1 eng |
| 010 LCCN | | $a Record content licensor | 2002004314 |
| 020 ISBN | | $a ISBN | 0916718190 |
| 035 System Ctrl No | | $a System control number | 12710087 |
| 040 Cataloging Src | | $a Original cataloging agency | DLC |
| | | $c Transcribing agency | DLC |
| | | $d Modifying agency | DLC |
| 042 Authentication | | $a Authentication code | lcac |
| 050 LC Call No | 00 | $a Classification number | PZ7.J323 |
| | | $b Item number | Sc 2002 |
| 082 Dewey Class No | 00 | $a Classification number | [Fic] |
| | | $2 Edition number | 21 |
| 100 ME:PersonalName | 1 | $a Personal name | Jaspersohn, William. |
| 245 Title | 14 | $a Title | The scrimshaw ring / |
| | | $c Statement of responsibility | by William Jaspersohn ; paintings by Vernon Thornblad. |
| 250 Edition | | $a Edition statement | 1st ed. |
| 260 PublicationInfo | | $a Place of publication, dist. | Middlebury, Vt. : |
| | | $b Name of publisher, dist, etc | Vermont Folklife Center, |
| | | $c Date of publication, dist, etc | c2002. |
| 300 Physical Desc | | $a Extent | 1 v. unpaged : |
| | | $b Other physical details | col. ill. ; |
| | | $c Dimensions | 21 x 26 cm. |
| 440 Series Title | 4 | $a Title | The family heritage series |
| 500 General Note | | $a General note | Based on real events. |
| 520 Summary | | $a Summary, etc. note | A young boy living in Newport, Rhode Island, in 1710 enjoys imaginary adventures with make-believe pirates, until the day that real pirates come ashore for evil purposes and leave him a remarkable memento. Includes ideas for activities related to family heirlooms. |
| 650 Subj:Topic | 1 | $a Topical term | Pirates |
| | | $v Form subdivision | Fiction. |
| 650 Subj:Topic | 1 | $a Topical term | Heirlooms |
| | | $v Form subdivision | Fiction. |
| 651 Subj:Geog | 1 | $a Geographic name | Newport (R.I.) |
| | | $x General subdivision | History |
| | | $y Chronological subdivision | Colonial period, ca. 1600-1775 |
| | | $v Form subdivision | Fiction. |
| 700 AE:PersName | 1 | $a Personal name | Thornblad, Vernon, |
| | | $e Relator | ill. |
| 852 Holdings | | $a Location | BENEL |
| | | $h Classification part | F JAS |
| | | $p Barcode | 20051 |
| | | $9 Cost | $0.00 |
| 856 ElectronicLocat | 4 | $3 Materials specified | Cover image |
| | | $u Uniform Resource Identifier | https://covers.openlibrary.org/b/id/1668881-M.jpg |