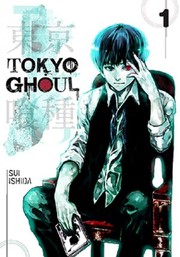 741.5 ISH
Tokyo ghoul
San Francisco, CA : VIZ Media, LLC, [2015]
213 p. : chiefly ill. (some col.) ; 21 cm.
"Ghouls live among us, the same as normal people in every way--except their craving for human flesh. Shy Ken Kaneki is thrilled to go on a date with the beautiful Rize, but it turns out that she's only interested in his body--in eating it, that is. When a morally dubious rescue transforms him into the first half-human, half-ghoul hybrid, Ken must survive Ghoul turf wars, learn more about Ghoul society, and master his new powers"--Back cover.
Available
Regular
8 copies available at Mt Anthony Union Middle School
| | |
| --- | --- |
| ISBN: | |
| LC Call No: | PN6790.J33 I65413 2015 |
| Dewey Class No: | 741.5/952 23 |
| Author: | |
| UniformTitle: | Tåokyåo gåuåu. English |
| Title: | Tokyo ghoul. 1 / story and art by Sui Ishida ; translation, Joe Yamazaki. |
| Edition: | VIZ Signature ed. |
| Publisher: | San Francisco, CA : VIZ Media, LLC, [2015] |
| Physical: | 213 p. : chiefly ill. (some col.) ; 21 cm. |
| Notes: | Translated from the Japanese. |
| Notes: | "First published in Japan in 2011 by Shueisha Inc., Tokyo"--Colophon. |
| Notes: | Book reads from right to left in the traditional Japanese format. |
| Notes: | "Parental advisory: Tokyo Ghoul is rated T+ for Older Teen and is recommended for ages 16 and up. This v. contains violence and gore"--Colophon. |
| Summary: | "Ghouls live among us, the same as normal people in every way--except their craving for human flesh. Shy Ken Kaneki is thrilled to go on a date with the beautiful Rize, but it turns out that she's only interested in his body--in eating it, that is. When a morally dubious rescue transforms him into the first half-human, half-ghoul hybrid, Ken must survive Ghoul turf wars, learn more about Ghoul society, and master his new powers"--Back cover. |
| Target Audience: | |
| Subject: | |
| Subject: | |
| AE:PersName: | |
| Link: | |
| Field | Ind | Subfield | Data |
| --- | --- | --- | --- |
| 001 Control No | | | 20985 |
| 005 LastTransaction | | | 20170606140506.0 |
| 008 Data Elements | | | 151027s2015 caua 000 0 eng d |
| 020 ISBN | | $a ISBN | 9781421580364 |
| 035 System Ctrl No | | $a System control number | (ICrlF)0588YZ |
| 035 System Ctrl No | | $a System control number | (ICrlF)fol15902999 |
| 040 Cataloging Src | | $a Original cataloging agency | ICrlF |
| | | $b Language of cataloging | eng |
| | | $c Transcribing agency | ICrlF |
| | | $d Modifying agency | ICrlF |
| 041 Language Code | 1 | $a Text/soundtrack/separate title | eng |
| | | $h Orig/intermediate tranlations | jpn |
| 050 LC Call No | 4 | $a Classification number | PN6790.J33 |
| | | $b Item number | I65413 2015 |
| 082 Dewey Class No | 04 | $a Classification number | 741.5/952 |
| | | $2 Edition number | 23 |
| 100 ME:PersonalName | 1 | $a Personal name | Ishida, Sui. |
| 240 UniformTitle | 10 | $a Uniform title | Tåokyåo gåuåu. |
| | | $l Language of a work | English |
| 245 Title | 10 | $a Title | Tokyo ghoul. |
| | | $n Number of part/section of work | 1 / |
| | | $c Statement of responsibility | story and art by Sui Ishida ; translation, Joe Yamazaki. |
| 250 Edition | | $a Edition statement | VIZ Signature ed. |
| 260 PublicationInfo | | $a Place of publication, dist. | San Francisco, CA : |
| | | $b Name of publisher, dist, etc | VIZ Media, LLC, |
| | | $c Date of publication, dist, etc | [2015] |
| 300 Physical Desc | | $a Extent | 213 p. : |
| | | $b Other physical details | chiefly ill. (some col.) ; |
| | | $c Dimensions | 21 cm. |
| 500 General Note | | $a General note | Translated from the Japanese. |
| 500 General Note | | $a General note | "First published in Japan in 2011 by Shueisha Inc., Tokyo"--Colophon. |
| 500 General Note | | $a General note | Book reads from right to left in the traditional Japanese format. |
| 500 General Note | | $a General note | "Parental advisory: Tokyo Ghoul is rated T+ for Older Teen and is recommended for ages 16 and up. This v. contains violence and gore"--Colophon. |
| 520 Summary | | $a Summary, etc. note | "Ghouls live among us, the same as normal people in every way--except their craving for human flesh. Shy Ken Kaneki is thrilled to go on a date with the beautiful Rize, but it turns out that she's only interested in his body--in eating it, that is. When a morally dubious rescue transforms him into the first half-human, half-ghoul hybrid, Ken must survive Ghoul turf wars, learn more about Ghoul society, and master his new powers"--Back cover. |
| 521 Target Audience | 2 | $a Target audience note | Adult |
| | | $b Source | Follett School Solutions. |
| 650 Subj:Topic | 0 | $a Topical term | Zombies |
| | | $v Form subdivision | Comic books, strips, etc. |
| | | $v Form subdivision | Fiction. |
| 650 Subj:Topic | 0 | $a Topical term | Ghouls and ogres |
| | | $v Form subdivision | Comic books, strips, etc. |
| | | $v Form subdivision | Fiction. |
| 655 IT:Genre | 7 | $a Genre/form data or focus term | Horror comics. |
| 655 IT:Genre | 7 | $a Genre/form data or focus term | Graphic novels. |
| 700 AE:PersName | 1 | $a Personal name | Yamazaki, Joe, |
| | | $e Relator | tr. |
| 852 Holdings | 1 | $a Location | B43MS |
| | | $h Classification part | 741.5 ISH |
| | | $i Item part | ISH |
| | | $p Barcode | 27681 |
| | | $9 Cost | $11.09 |
| 852 Holdings | 1 | $a Location | B43MS |
| | | $h Classification part | 741.5 ISH |
| | | $i Item part | ISH |
| | | $p Barcode | 27704 |
| | | $9 Cost | $11.09 |
| 852 Holdings | 1 | $a Location | B43MS |
| | | $h Classification part | 741.5 ISH |
| | | $i Item part | ISH |
| | | $p Barcode | 27705 |
| | | $9 Cost | $11.09 |
| 852 Holdings | 1 | $a Location | B43MS |
| | | $h Classification part | 741.5 ISH |
| | | $i Item part | ISH |
| | | $p Barcode | 27706 |
| | | $9 Cost | $11.09 |
| 852 Holdings | 1 | $a Location | B43MS |
| | | $h Classification part | 741.5 ISH |
| | | $i Item part | ISH |
| | | $p Barcode | 27707 |
| | | $9 Cost | $11.09 |
| 852 Holdings | 1 | $a Location | B43MS |
| | | $h Classification part | 741.5 ISH |
| | | $i Item part | ISH |
| | | $p Barcode | 27708 |
| | | $9 Cost | $11.09 |
| 852 Holdings | 1 | $a Location | B43MS |
| | | $h Classification part | 741.5 ISH |
| | | $i Item part | ISH |
| | | $p Barcode | 28096 |
| | | $9 Cost | $11.09 |
| 852 Holdings | 1 | $a Location | B43MS |
| | | $h Classification part | 741.5 ISH |
| | | $i Item part | ISH |
| | | $p Barcode | 28152 |
| | | $9 Cost | $11.09 |
| 856 ElectronicLocat | 4 | $3 Materials specified | Cover image |
| | | $u Uniform Resource Identifier | https://covers.openlibrary.org/b/id/7900452-M.jpg |