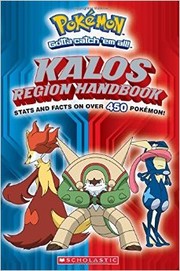 793.93 KAL
Kalos region handbook : stats and facts on over 450 Pokémon!
New York, NY : Scholastic Inc., [2014]
272 p. : col. ill. ; 23 cm.
An A-to-Z guide to the Pokémon of the Kalos region, featuring facts and figures on the Mega-Evolved Pokémon, tips and trivia on type, and inside information on trainers and professors.
Reading Level: 6.7
Overdue
Dewey 700-799
All copies at Bennington Elementary School are out and at least one is overdue
| Field | Ind | Subfield | Data |
| --- | --- | --- | --- |
| 001 Control No | | | 13249 |
| 005 LastTransaction | | | 20170517121026.0 |
| 008 Data Elements | | | 131204s2014 nyua c f 000 0 eng d |
| 020 ISBN | | $a ISBN | 9780545646024 |
| 035 System Ctrl No | | $a System control number | (ICrlF)0839NM |
| 035 System Ctrl No | | $a System control number | (ICrlF)fol15353269 |
| 040 Cataloging Src | | $a Original cataloging agency | YDXCP |
| | | $b Language of cataloging | eng |
| | | $c Transcribing agency | YDXCP |
| | | $d Modifying agency | BTCTA |
| | | $d Modifying agency | BDX |
| | | $d Modifying agency | MLY |
| | | $d Modifying agency | OCLCO |
| | | $d Modifying agency | IHI |
| | | $d Modifying agency | ICrlF |
| 082 Dewey Class No | 04 | $a Classification number | 793.93/2 |
| | | $2 Edition number | 23 |
| 245 Title | 00 | $a Title | Kalos region handbook : |
| | | $b Remainder of title | stats and facts on over 450 Pokémon! |
| 246 VaryingTitle | 1 | $i Display text | Title appears on item as: |
| | | $a Title proper/short title | Pokémon gotta catch 'em all! Kalos region handbook |
| 260 PublicationInfo | | $a Place of publication, dist. | New York, NY : |
| | | $b Name of publisher, dist, etc | Scholastic Inc., |
| | | $c Date of publication, dist, etc | [2014] |
| 300 Physical Desc | | $a Extent | 272 p. : |
| | | $b Other physical details | col. ill. ; |
| | | $c Dimensions | 23 cm. |
| 520 Summary | | $a Summary, etc. note | An A-to-Z guide to the Pokémon of the Kalos region, featuring facts and figures on the Mega-Evolved Pokémon, tips and trivia on type, and inside information on trainers and professors. |
| 521 Target Audience | 0 | $a Target audience note | 6.7. |
| 521 Target Audience | 2 | $a Target audience note | 3-6 |
| | | $b Source | Follett School Solutions. |
| 650 Subj:Topic | 7 | $a Topical term | Pokémon (Game) |
| | | $v Form subdivision | Handbooks, manuals, etc. |
| | | $2 Source of heading or term | sears |
| 650 Subj:Topic | 7 | $a Topical term | Pokémon (Fictional characters) |
| | | $v Form subdivision | Handbooks, manuals, etc. |
| | | $2 Source of heading or term | sears |
| 650 Subj:Topic | 7 | $a Topical term | Computer games |
| | | $v Form subdivision | Handbooks, manuals, etc. |
| | | $2 Source of heading or term | sears |
| 710 AE:CorpName | 2 | $a Corporate name | Scholastic Inc. |
| 852 Holdings | 1 | $h Classification part | 793.93 KAL |
| | | $i Item part | KAL |
| | | $p Barcode | 23906 |
| | | $9 Cost | $7.69 |
| | | $a Location | BENEL |
| 852 Holdings | 1 | $h Classification part | 793.93 KAL |
| | | $i Item part | KAL |
| | | $p Barcode | 23907 |
| | | $9 Cost | $7.69 |
| | | $a Location | BENEL |
| 856 ElectronicLocat | 4 | $3 Materials specified | Cover image |
| | | $u Uniform Resource Identifier | https://covers.openlibrary.org/b/id/7358661-M.jpg |