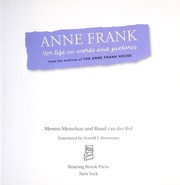 92 FRA
Anne Frank : her life in words and pictures from the archives of the Anne Frank House
New York : Flash Point/Roaring Brook Press, 2009.
215 p. : ill. (some col.), col. maps ; 18 cm.
A photographic introduction to the life and experiences of Anne Frank, who along with her family and others lived in hiding from the Nazis in a secret annex from July 1942 until their capture in August 1944.
Reading Level: 5.3
Available
Regular
1 copy available at Mt Anthony Union Middle School
| | |
| --- | --- |
| ISBN: | |
| LC Call No: | DS135.N6 F73393 2009 |
| Dewey Class No: | 940.53/18/092 B 22 |
| Author: | |
| UniformTitle: | Verhaal van Anne Frank. English |
| Title: | Anne Frank : her life in words and pictures from the archives of the Anne Frank House / Menno Metselaar and Ruud van der Rol ; translated by Arnold J. Pomerans. |
| Edition: | 1st American ed. |
| Publisher: | New York : Flash Point/Roaring Brook Press, 2009. |
| Physical: | 215 p. : ill. (some col.), col. maps ; 18 cm. |
| Notes: | Translation of: Verhaal van Anne Frank. |
| Notes: | "First published 2004 in the Netherlands by the Anne Frank House under the title The story of Anne Frank"--P. facing t.p. |
| BibliogrphyNote: | Includes bibliographical references. |
| Citation/Refs: | School Library Journal starred, October 2009 |
| Citation/Refs: | Notable/Best Books (A.L.A.), January 2010 |
| Citation/Refs: | Booklist starred, November 2009 |
| Citation/Refs: | Library Media Connection starred, November 2009 |
| Citation/Refs: | Kirkus Starred, August 2009 |
| Citation/Refs: | New York Times, March 2010 |
| Citation/Refs: | Horn Book, January 2010 |
| Summary: | A photographic introduction to the life and experiences of Anne Frank, who along with her family and others lived in hiding from the Nazis in a secret annex from July 1942 until their capture in August 1944. |
| Target Audience: | |
| Target Audience: | |
| Subject: | Frank, Anne,--1929-1945--Juvenile literature. |
| Subject: | Frank, Anne,--1929-1945. |
| Subject: | Jews--Netherlands--Amsterdam--Biography--Juvenile literature. |
| Subject: | Holocaust, Jewish (1939-1945)--Netherlands--Amsterdam--Biography--Juvenile literature. |
| Subject: | Jewish children in the Holocaust--Biography--Juvenile literature. |
| Subject: | |
| Subject: | |
| Subject: | |
| AE:PersName: | |
| AE:PersName: | |
| AE:PersName: | |
| AE:CorpName: | Anne Frank Stichting. |
| Link: | |
| Field | Ind | Subfield | Data |
| --- | --- | --- | --- |
| 001 Control No | | | 18721 |
| 005 LastTransaction | | | 20170127104149.0 |
| 008 Data Elements | | | 090827t20092004nyuab c b 000 0beng d |
| 020 ISBN | | $a ISBN | 1596435461 |
| 035 System Ctrl No | | $a System control number | (ICrlF)00356X |
| 035 System Ctrl No | | $a System control number | (ICrlF)fol12479923 |
| 040 Cataloging Src | | $a Original cataloging agency | ICrlF |
| | | $c Transcribing agency | ICrlF |
| | | $d Modifying agency | ICrlF |
| 041 Language Code | 1 | $a Text/soundtrack/separate title | eng |
| | | $h Orig/intermediate tranlations | dut |
| 043 GAC | | $a Geographic area code | e-ne--- |
| 050 LC Call No | 4 | $a Classification number | DS135.N6 |
| | | $b Item number | F73393 2009 |
| 082 Dewey Class No | 04 | $a Classification number | 940.53/18/092 |
| | | $a Classification number | B |
| | | $2 Edition number | 22 |
| 100 ME:PersonalName | 1 | $a Personal name | Metselaar, Menno. |
| 240 UniformTitle | 10 | $a Uniform title | Verhaal van Anne Frank. |
| | | $l Language of a work | English |
| 245 Title | 10 | $a Title | Anne Frank : |
| | | $b Remainder of title | her life in words and pictures from the archives of the Anne Frank House / |
| | | $c Statement of responsibility | Menno Metselaar and Ruud van der Rol ; translated by Arnold J. Pomerans. |
| 250 Edition | | $a Edition statement | 1st American ed. |
| 260 PublicationInfo | | $a Place of publication, dist. | New York : |
| | | $b Name of publisher, dist, etc | Flash Point/Roaring Brook Press, |
| | | $c Date of publication, dist, etc | 2009. |
| 300 Physical Desc | | $a Extent | 215 p. : |
| | | $b Other physical details | ill. (some col.), col. maps ; |
| | | $c Dimensions | 18 cm. |
| 500 General Note | | $a General note | Translation of: Verhaal van Anne Frank. |
| 500 General Note | | $a General note | "First published 2004 in the Netherlands by the Anne Frank House under the title The story of Anne Frank"--P. facing t.p. |
| 504 BibliogrphyNote | | $a Bibliography, etc. note | Includes bibliographical references. |
| 510 Citation/Refs | 3 | $a Name of source | School Library Journal starred, October 2009 |
| 510 Citation/Refs | 3 | $a Name of source | Notable/Best Books (A.L.A.), January 2010 |
| 510 Citation/Refs | 3 | $a Name of source | Booklist starred, November 2009 |
| 510 Citation/Refs | 3 | $a Name of source | Library Media Connection starred, November 2009 |
| 510 Citation/Refs | 3 | $a Name of source | Kirkus Starred, August 2009 |
| 510 Citation/Refs | 3 | $a Name of source | New York Times, March 2010 |
| 510 Citation/Refs | 3 | $a Name of source | Horn Book, January 2010 |
| 520 Summary | | $a Summary, etc. note | A photographic introduction to the life and experiences of Anne Frank, who along with her family and others lived in hiding from the Nazis in a secret annex from July 1942 until their capture in August 1944. |
| 521 Target Audience | 0 | $a Target audience note | 5.3 |
| 521 Target Audience | 2 | $a Target audience note | 5-8 |
| | | $b Source | Follett Library Resources |
| 600 Subj:Name | 10 | $a Personal name | Frank, Anne, |
| | | $d Dates associated | 1929-1945 |
| | | $v Form subdivision | Juvenile literature. |
| 600 Subj:Name | 11 | $a Personal name | Frank, Anne, |
| | | $d Dates associated | 1929-1945. |
| 650 Subj:Topic | 0 | $a Topical term | Jews |
| | | $z Geographic subdivision | Netherlands |
| | | $z Geographic subdivision | Amsterdam |
| | | $v Form subdivision | Biography |
| | | $v Form subdivision | Juvenile literature. |
| 650 Subj:Topic | 0 | $a Topical term | Holocaust, Jewish (1939-1945) |
| | | $z Geographic subdivision | Netherlands |
| | | $z Geographic subdivision | Amsterdam |
| | | $v Form subdivision | Biography |
| | | $v Form subdivision | Juvenile literature. |
| 650 Subj:Topic | 0 | $a Topical term | Jewish children in the Holocaust |
| | | $v Form subdivision | Biography |
| | | $v Form subdivision | Juvenile literature. |
| 650 Subj:Topic | 1 | $a Topical term | Jews |
| | | $v Form subdivision | Biography. |
| 650 Subj:Topic | 1 | $a Topical term | Holocaust, Jewish (1939-1945) |
| 650 Subj:Topic | 1 | $a Topical term | Women |
| | | $v Form subdivision | Biography. |
| 651 Subj:Geog | 0 | $a Geographic name | Amsterdam (Netherlands) |
| | | $v Form subdivision | Biography |
| | | $v Form subdivision | Juvenile literature. |
| 651 Subj:Geog | 1 | $a Geographic name | Amsterdam (Netherlands) |
| 700 AE:PersName | 1 | $a Personal name | Rol, Ruud van der. |
| 700 AE:PersName | 1 | $a Personal name | Pomerans, Arnold. |
| 700 AE:PersName | 1 | $a Personal name | Metselaar, Menno. |
| | | $t Title of a work | Story of Anne Frank. |
| 710 AE:CorpName | 2 | $a Corporate name | Anne Frank Stichting. |
| 852 Holdings | 1 | $a Location | B43MS |
| | | $h Classification part | 92 FRA |
| | | $i Item part | FRA |
| | | $p Barcode | 37376 |
| | | $9 Cost | $16.99 |
| 856 ElectronicLocat | 4 | $3 Materials specified | Cover image |
| | | $u Uniform Resource Identifier | https://covers.openlibrary.org/b/id/7341820-M.jpg |