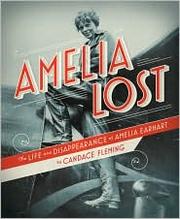 92 EAR
Amelia lost : the life and disappearance of Amelia Earhart
New York : Schwartz & Wade Books, c2011.
ix, 118 p. : ill., maps ; 25 cm.
Traces the life of female aviator Amelia Earhart from her childhood to her final flight, discusses the extensive search for her and her missing plane, and includes photographs, maps, handwritten notes by Amelia, and sidebars.
Available
Regular
2 copies available at Mt Anthony Union Middle School
| | |
| --- | --- |
| ISBN: | |
| LC Call No: | TL540.E3 F58 2011 |
| Dewey Class No: | 629.13/092 B 22 |
| Author: | |
| Title: | Amelia lost : the life and disappearance of Amelia Earhart / by Candace Fleming ; lettering by Jessica Hische. |
| Publisher: | New York : Schwartz & Wade Books, c2011. |
| Physical: | ix, 118 p. : ill., maps ; 25 cm. |
| BibliogrphyNote: | Includes bibliographical references (p. 112-116) and index. |
| Citation/Refs: | School Library Journal starred, March 2011. |
| Citation/Refs: | Book Links (A.L.A.), June 2011. |
| Citation/Refs: | Horn Book Starred, March 2011. |
| Citation/Refs: | Library Media Connection starred, August 2011. |
| Citation/Refs: | Bulletin of the Center for Children's Books starre, March 2011. |
| Citation/Refs: | Booklist, December 2010. |
| Citation/Refs: | Kirkus Starred, January 2011. |
| Citation/Refs: | New York Times, March 2011. |
| Summary: | Traces the life of female aviator Amelia Earhart from her childhood to her final flight, discusses the extensive search for her and her missing plane, and includes photographs, maps, handwritten notes by Amelia, and sidebars. |
| Target Audience: | |
| Target Audience: | |
| Subject: | Earhart, Amelia,--1897-1937. |
| Subject: | |
| Subject: | |
| Link: | |
| Field | Ind | Subfield | Data |
| --- | --- | --- | --- |
| 001 Control No | | | 19709 |
| 005 LastTransaction | | | 20170315161010.0 |
| 008 Data Elements | | | 100225s2011 nyuab c b 001 0beng |
| 010 LCCN | | $a Record content licensor | 2010005279 |
| 020 ISBN | | $a ISBN | 978-0-375-84198-9 |
| 035 System Ctrl No | | $a System control number | zaccp2 b40537400 |
| 040 Cataloging Src | | $a Original cataloging agency | DLC |
| | | $c Transcribing agency | DLC |
| | | $d Modifying agency | ICrlF |
| 043 GAC | | $a Geographic area code | n-us--- |
| 050 LC Call No | 00 | $a Classification number | TL540.E3 |
| | | $b Item number | F58 2011 |
| 069 | | $a | PQ |
| | | $b | fol13057452 |
| | | $c | 008 |
| 082 Dewey Class No | 04 | $a Classification number | 629.13/092 |
| | | $a Classification number | B |
| | | $2 Edition number | 22 |
| 100 ME:PersonalName | 1 | $a Personal name | Fleming, Candace. |
| 245 Title | 10 | $a Title | Amelia lost : |
| | | $b Remainder of title | the life and disappearance of Amelia Earhart / |
| | | $c Statement of responsibility | by Candace Fleming ; lettering by Jessica Hische. |
| 260 PublicationInfo | | $a Place of publication, dist. | New York : |
| | | $b Name of publisher, dist, etc | Schwartz & Wade Books, |
| | | $c Date of publication, dist, etc | c2011. |
| 300 Physical Desc | | $a Extent | ix, 118 p. : |
| | | $b Other physical details | ill., maps ; |
| | | $c Dimensions | 25 cm. |
| 504 BibliogrphyNote | | $a Bibliography, etc. note | Includes bibliographical references (p. 112-116) and index. |
| 510 Citation/Refs | 3 | $a Name of source | School Library Journal starred, March 2011. |
| 510 Citation/Refs | 3 | $a Name of source | Book Links (A.L.A.), June 2011. |
| 510 Citation/Refs | 3 | $a Name of source | Horn Book Starred, March 2011. |
| 510 Citation/Refs | 3 | $a Name of source | Library Media Connection starred, August 2011. |
| 510 Citation/Refs | 3 | $a Name of source | Bulletin of the Center for Children's Books starre, March 2011. |
| 510 Citation/Refs | 3 | $a Name of source | Booklist, December 2010. |
| 510 Citation/Refs | 3 | $a Name of source | Kirkus Starred, January 2011. |
| 510 Citation/Refs | 3 | $a Name of source | New York Times, March 2011. |
| 520 Summary | | $a Summary, etc. note | Traces the life of female aviator Amelia Earhart from her childhood to her final flight, discusses the extensive search for her and her missing plane, and includes photographs, maps, handwritten notes by Amelia, and sidebars. |
| 521 Target Audience | 0 | $a Target audience note | 5.5. |
| 521 Target Audience | 2 | $a Target audience note | 5-8 |
| | | $b Source | Follett Library Resources. |
| 600 Subj:Name | 10 | $a Personal name | Earhart, Amelia, |
| | | $d Dates associated | 1897-1937. |
| 650 Subj:Topic | 0 | $a Topical term | Air pilots |
| | | $v Form subdivision | Biography. |
| 650 Subj:Topic | 0 | $a Topical term | Women |
| | | $v Form subdivision | Biography. |
| 852 Holdings | | $a Location | B43MS |
| | | $h Classification part | 92 EAR |
| | | $p Barcode | 37774 |
| | | $9 Cost | $0.00 |
| 852 Holdings | | $a Location | B43MS |
| | | $h Classification part | 92 EAR |
| | | $p Barcode | 37773 |
| | | $9 Cost | $0.00 |
| 856 ElectronicLocat | 4 | $3 Materials specified | Cover image |
| | | $u Uniform Resource Identifier | https://covers.openlibrary.org/b/id/6684077-M.jpg |