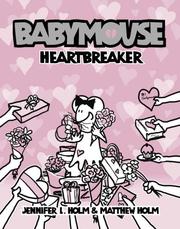 741.5
Babymouse.(vol 5)
New York : Random House, c2006.
91 p. : chiefly col. ill. ; 19 cm.
With candy and flowers and pink hearts everywhere, nothing much could ruin Babymouse's favorite holiday, Valentine's Day. Still she can't quite shake this nervous feeling that no one is going to ask her to the school dance.
Accelerated Reader: Level 2.0 / 0.5 Points / 112304.
Available
Dewey 700-799
1 copy available at Monument Elementary School
| | |
| --- | --- |
| ISBN: | |
| LC Call No: | PN6727.H592 B27 2006 |
| Dewey Class No: | 741.5/973 22 |
| Author: | |
| Title: | Babymouse.(vol 5). [5], Heartbreaker / by Jennifer L. Holm and Matthew Holm. |
| Publisher: | New York : Random House, c2006. |
| Physical: | 91 p. : chiefly col. ill. ; 19 cm. |
| Notes: | Part number from spine. |
| Citation/Refs: | Horn Book Guide, 1/2007. |
| Citation/Refs: | Horn Book Magazine, 1/2007. |
| Summary: | With candy and flowers and pink hearts everywhere, nothing much could ruin Babymouse's favorite holiday, Valentine's Day. Still she can't quite shake this nervous feeling that no one is going to ask her to the school dance. |
| Target Audience: | |
| Target Audience: | |
| Study Program: | |
| Awards Note: | Int'l Reading Assoc. Children's Choice, 2008. |
| Subject: | |
| Subject: | |
| AE:PersName: | |
| Link: | |